Sam Frazier
Sam Frazier is a guitarist (and pianist and bassist), singer and songwriter from Greensboro, NC. He has released two solo CDs (Half a Million Years and Sam Frazier). He was a member of the band Tornado with whom he released a long playing record album (First Alert) and a CD (When a Breeze Breaks Your Bones). He has also performed and recorded with Martha Bassett (The Goodbye Party, Magnificat, Mortal Flesh), The Piedmont Songbag (Try and Spread Some Cheer), Bruce Piephoff (Hamburger Square, The Chestnut Tree, Clockwork), Buddha Hat, Lisa Dames, The Numbers, The Prizzi's House Band, The Sky Kings, Mary Lyon (Hopscotch) and The Hall Monitors. He has opened shows for Joan Armatrading, The Neville Brothers, America, The Funky Meters, The Duhks, The Del McCrory Band, The Atlanta Rhythm Section, Eric Church, Craig Morgan, Root Boy Slim and others.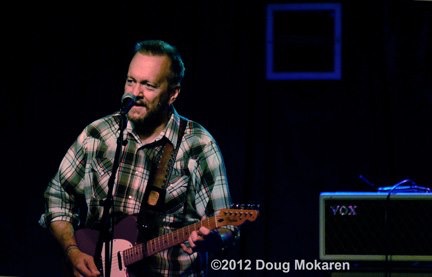 The Sam Frazier Band
The Sam Frazier Band is a trio comprised of Sam, Chris Micca (Lake Isle, The Malamondos, Brad Brooks) on bass and Cliff Greeson (Tornado, Swamp Cats, Dakota Joe) on drums. They play material from the aforementioned CDs along with funky/bluesy interpretations of other people's music. Some folks like to listen and some folks like to dance!